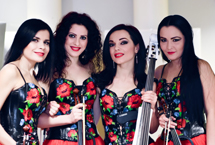 String Quartet Asturias toured in Estonia – 29/01 Jõhvi, Tartu 30/01, 31/01 Tallinn, Parnu 1/01. The girls will long remember this trip. Especially thanks to the wonderful organizers from inviting party and Estonian people.
Special thanks to Lyubov Alexeevna and Svetlana for the opportunity to get wonderfull emotions .
Video – general rehearsal in Jõhvi.

Photos – before the show. Photographer Radik Krivin

Moments: