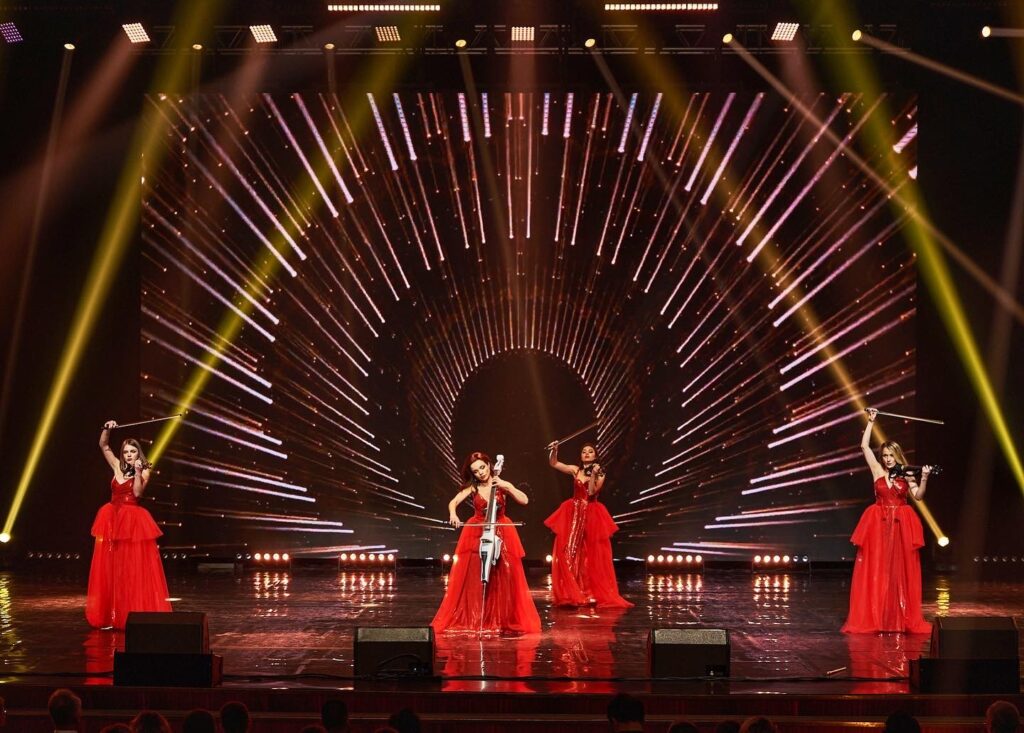 Asturia quartet is the union of beautiful, talented and creative girls from Ukraine who live for one purpose – to create a new art and make the world more beautiful! As a new rising star, Asturia collects admiration and applause around the world!

Voices of modern electronic musical instruments, bright costumes and expression of artists turn Asturia's performances into a spectacular show, while musical arrangements of famous music brings the new original sound.
Members of the quartet Asturia
Members of the quartet Asturia are young and talented musicians with higher musical education from the Tchaikovsky National Music Academy of Ukraine and are winners of state competitions of violinists and cellists; they have experience in solo and chamber performances. But on one day the girls with a classical education took up electronic instruments and made the classic sound new, winning the hearts of many listeners. This is how the Asturia SHOW was born.
Our name
ASTURIA is derived from the works of the famous Spanish composer Isaac Albeniz. His composition «Asturia» became the first modern treatment in the work of the group and since then is its hallmark. The composition has not only a Spanish flavor, which is visually suitable for the artists of quartet. First of all it is the passion, the temperament, expression and emotions, the powerful energy and a game of contrasts. All these qualities are the priority in the creation of new interpretations, regardless of style and trends, as well as the main emotions that girls want to pass from the stage to the audience.
Our achievements
The Asturia quartet collaborates with famous Ukrainian stars, including the winner of the Eurovision Song Contest 2016 Jamalа, perform their art for legend Montserrat Caballe, made performances for Caftan du Maroc Fashion Show and for Blizzard Entertainment, the participants The 17th Daejeon Cosmopolitan Music Festival in South Korea, opening of the American beauty contest Mrs.International in Ukraine – Mrs.Ukraine International 2018 , made show for UEFA Final Liege Champion 2018 in Kyiv, Ukraine, accompanied the competition «Supercross de Lyon» 2018 , opening of the show of Jeremy Ferrary «Duos Impossibles» on the «Smile and Song Festival» in Brussels 2019 , etch.
And one of the leading news of 2019:
String Quartet Asturias became the first Ukrainian band who perform the Champions League anthem in the UEFA history! On June 1, 2019, the girls performed the anthem before the final match of the Champions League final Liverpool v Tottenham Hotspur in Madrid!